The start date has been postponed to December 14th
12 December 2013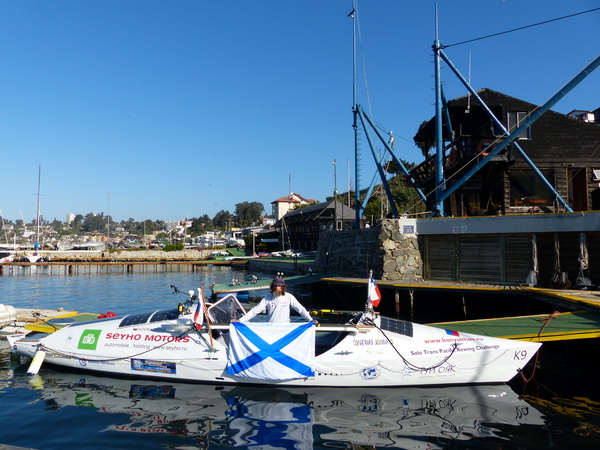 The "Turgoyak" is ready to go but the weather along the coast of Chile is not being agreeable. The start date has been postponed to December 14th. Winds on the Ocean off Valparaiso are blowing Southwest at 25 knots and higher. The expedition team is studying weather reports several times a day and looking ahead to find the most suitable date for the launch. Our primary resources are:
http://www.passageweather.com/# (South Pacific All)
http://meteoarmada.directemar.cl/site/pronosticos/pronostico_bahia_valparaiso.html
We also use the local expertise provided by the Yacht Club, where the boat is docked. The forecasts show that on December 12th and 13th the winds will sustain at 25 knots with gusts up to 35 knots. Winds at this level won't be a problem for navigation, but they will be disruptive to Fedor's first few days on the Ocean while he is getting used to the boat. For these reasons we have decided to play it safe and postpone the launch until December 14th at 7am local (Chilean time). The winds are expected to have subsided to 15 knots, in a south-south-west direction. It has taken two years to prepare for this transoceanic voyage, considering the design and construction of the boat. On the 12th Fedor will spend his Birthday on the beach with his family (son Oscar and grandson Arkady) and friends (Oleg Sirotin, Beav, Vladimir Kuksov, Vladimir Zaitsev, Vasiliy Galenko). In addition the Russian Ambassador to Chile Mikhail Orlovets is visiting Concon to wish Fedor a happy birthday. The new estimated launch date is December 14, 2013, at 7am local time. The launch location will be the city of Concon at Yacht Club Higurillas.
Translated by Tatiana Koreski