Flying to New Zealand with Emirates
08 November 2018
Any big journey starts with a flight to the starting point. My crossover on the rowing boat "AKROS" will start from the coast of New Zealand.
Back in September we sent our rowing boat to New Zealand onboard container ship, in the beginning of November it arrives to the port of Dunedin and we are heading to meet it there.
My team and I were to experience a unique flight. In fact, it could be called a flight to the end of the world, to New Zealand. Our flight consisted of two legs: Moscow – Dubai, Dubai – Auckland, New Zealand.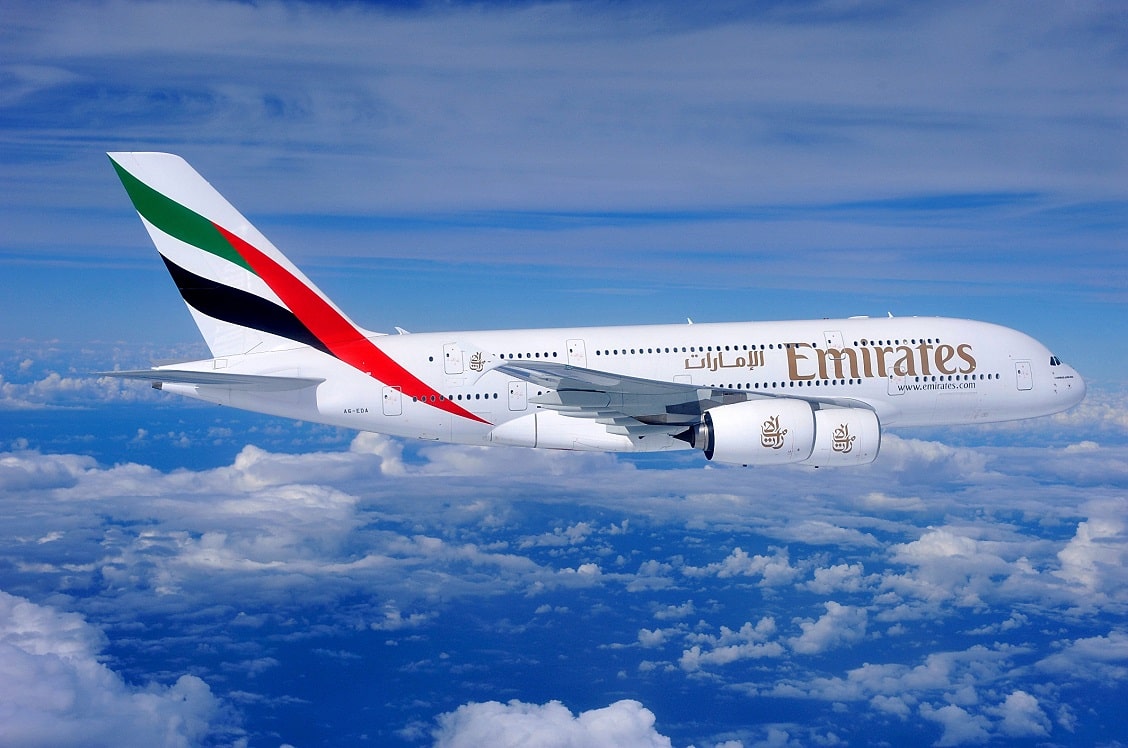 We contacted the local office of Emirates airlines in Moscow offering them to become an official carrier of our expedition and bring our team to the starting point in New Zealand. Airline agreed to support our project and provided us with a Business class ticket.
The first leg of the flight from Moscow to Dubai is not something unusual for Russians when it comes to the travelling distance. However, I can't say the same about the second leg of flight Dubai – Auckland, the distance of which is 16 500 km and the flight itself lasts 17 hours.
Even the most experienced travellers get excited when taking such a long flight. I have never travelled onboard for 17 hours straight, although I flew around the world in a balloon but that was a completely different story.
We arrived in Domodedovo airport and see a beautiful Emirates A380 aircraft that is striking us with its sizes and power. Our pilot on the first leg from Moscow to Dubai is an Australian citizen. I can't hide my admiration for the pilots operating the aircraft carrying more than 500 people. For your information, this number equals to the entire population of the town of Port Chalmers where our base will be located before the start.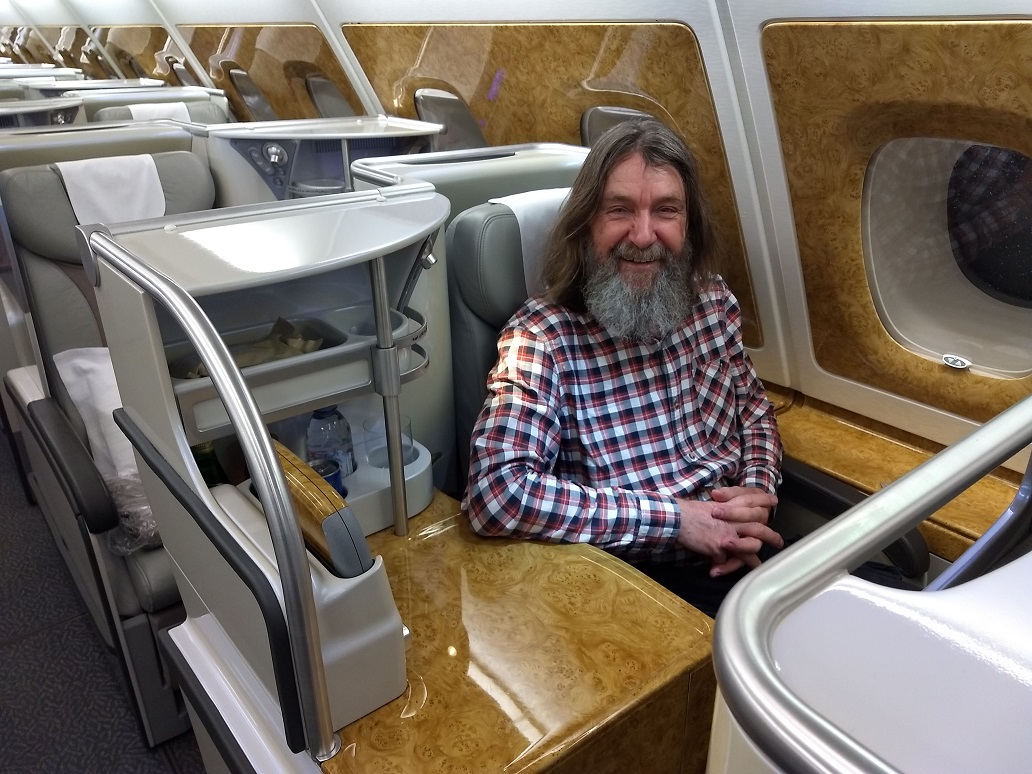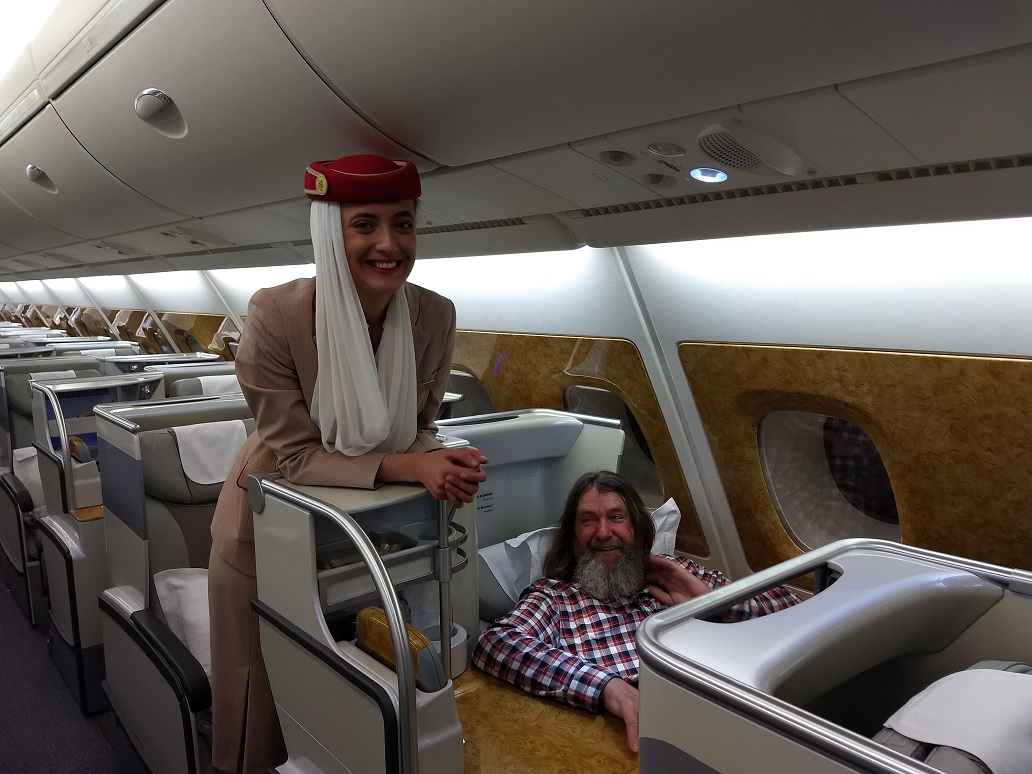 Upon arrival at the airport we received a surprise from the Emirates representatives. They invited us onboard half an hour before the boarding and gave us a tour around the aircraft. During this excursion they mentioned that currently Emirates A380 is one of the most recognizable and admirable aircrafts in the world. Passengers love to travel onboard this aircrafts for their spacious cabins in all the classes and its Onboard Lounge, Shower-SPA and First class private suits have brought the onboard experience to a new level.
After such a detailed presentation we were impatiently waiting for our flight and looking forward to testing Emirates onboard products.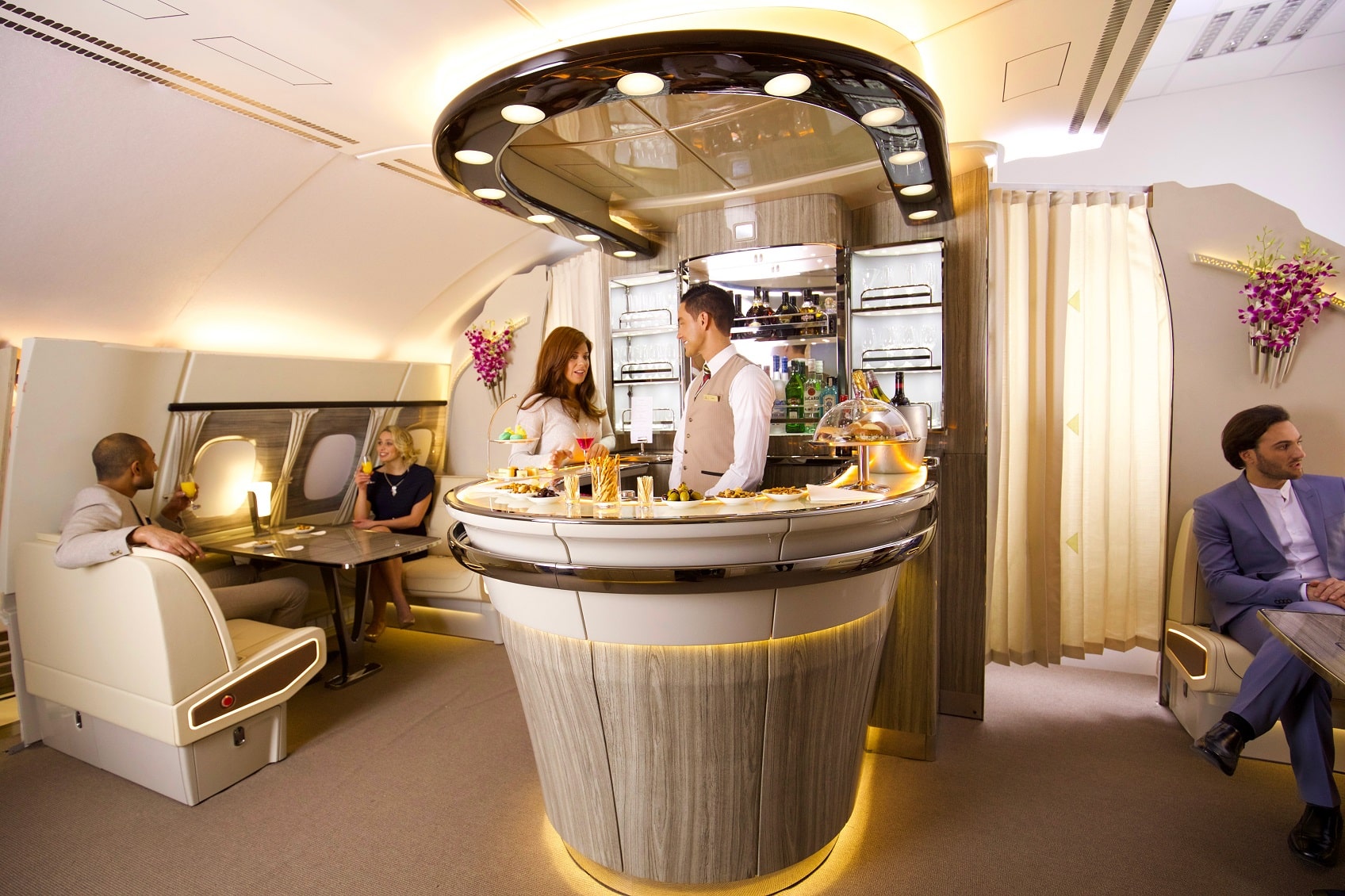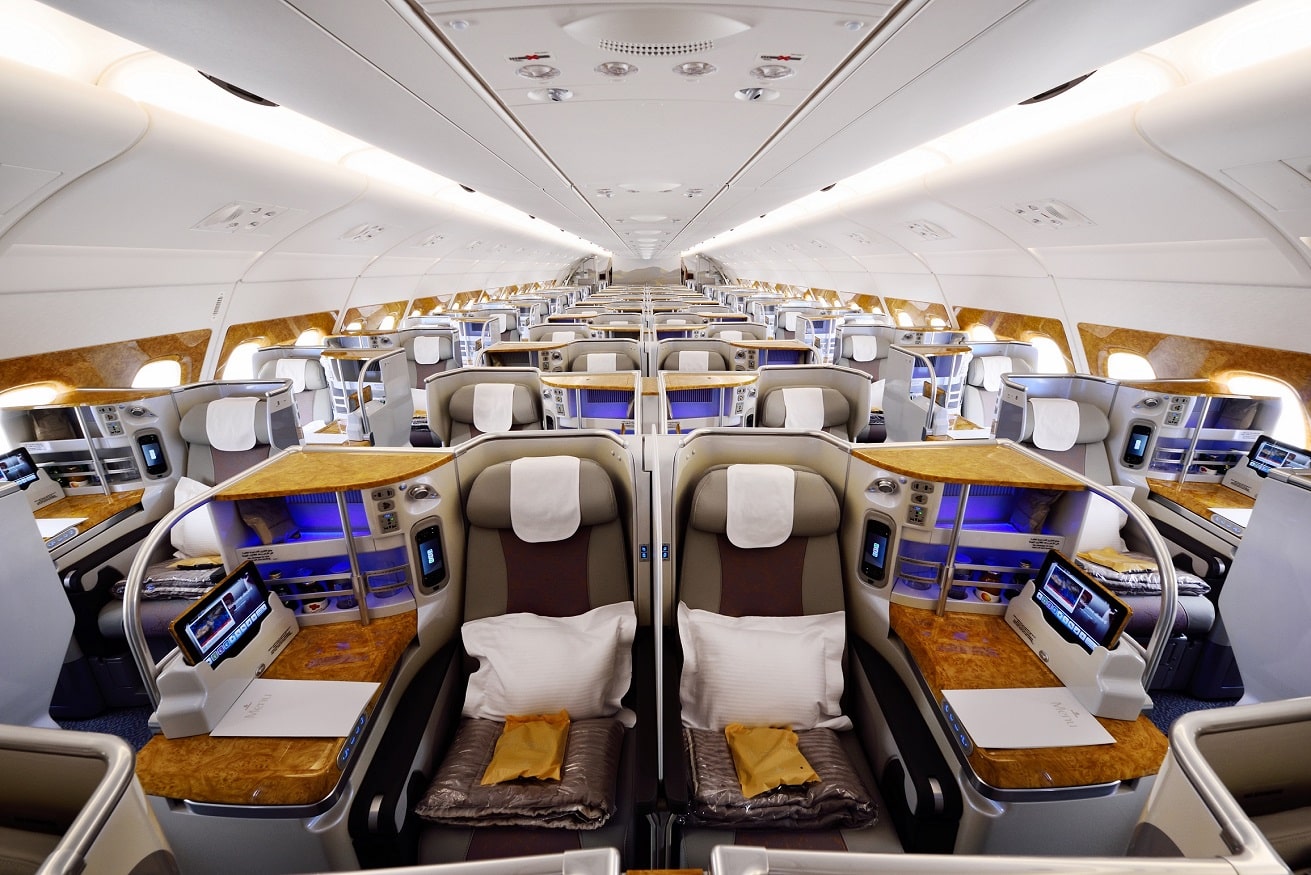 I want to take note that it was my first time travelling onboard Emirates A380 therefore I was very interested in experiencing how such giant soars into the sky. Despite its size the aircraft took off so easily, gained altitude and set a course.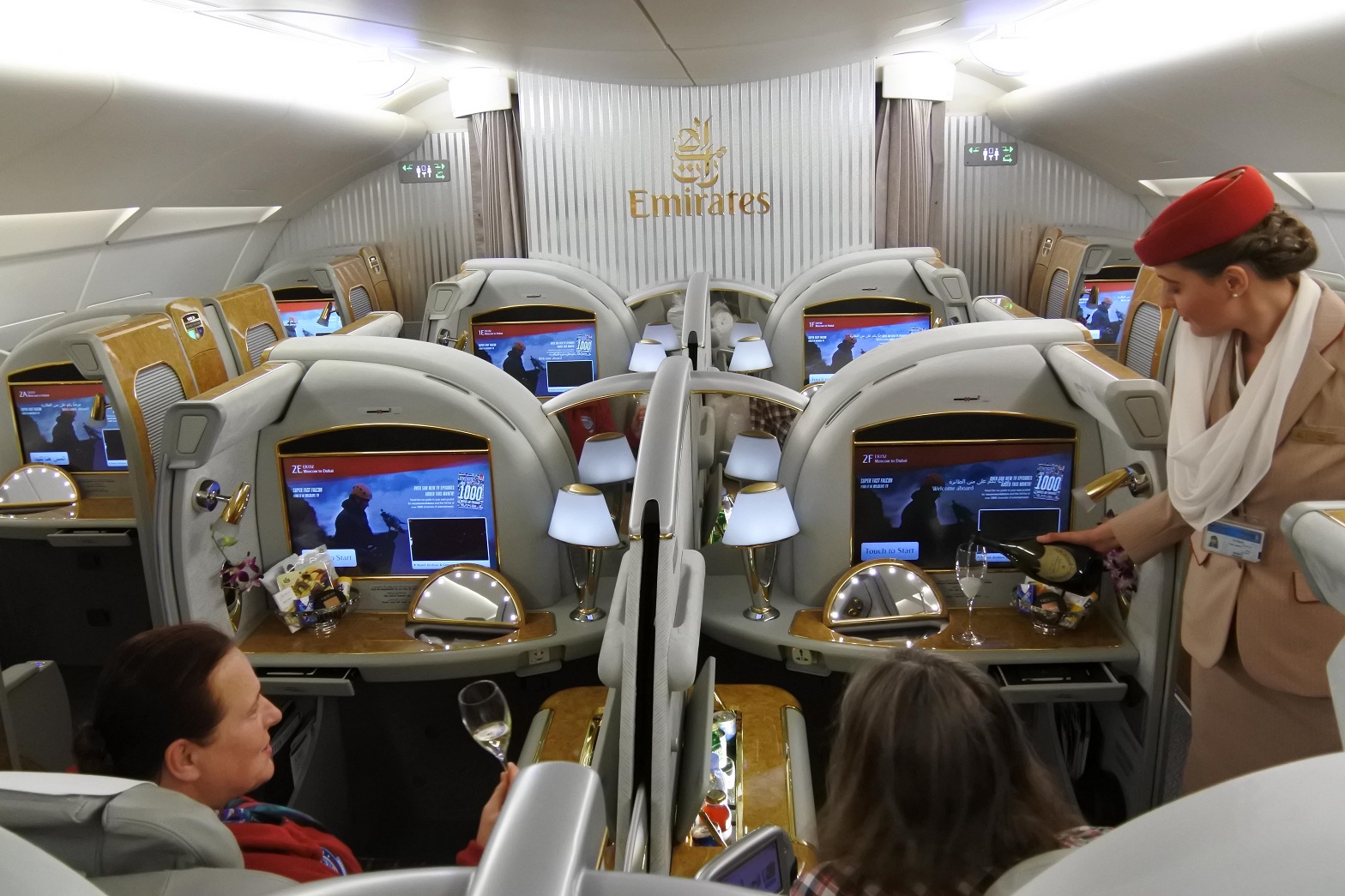 I am preparing to fly around the world on an airplane equipped with solar modules (the Albatross project – around the world on a solar energy). Therefore, it was interesting for me to study the information that was coming from the cockpit. It is worth noting that the data provided was very informative. In addition to the aircraft and wind speed, altitude and the course, information from onboard instrument system was also separately displayed. Three cameras transmitted the overboard view which was shown on the big screen in Business class creating a sense of participation in controlling the aircraft. Information on the flight was also available on Emirates onboard entertainment system ice. During our aircraft tour we have learnt that this multi awarded onboard entertainment system offers more than 3 500 channels with films, music and games and we got a chance to experience it ourselves.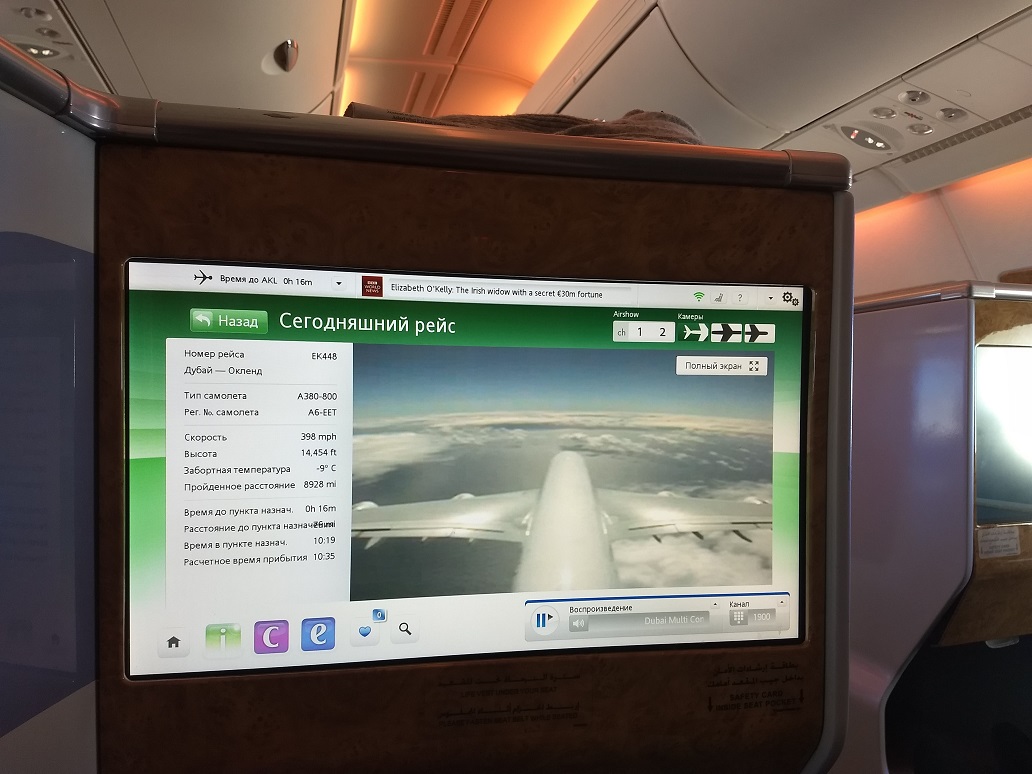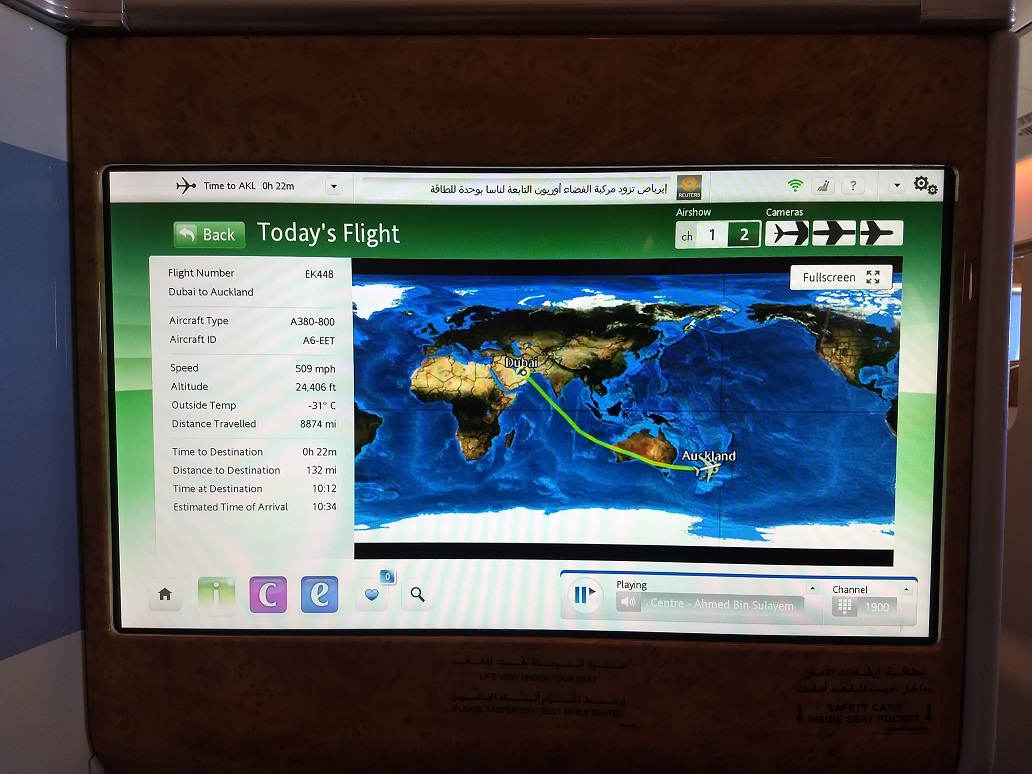 The Moscow – Dubai flight took five hours. When we disembarked the plane, we were welcomed by the representative of Marhaba meet&greet service that provides passengers an escort guiding them in big terminals of Dubai International airport. Mari, Marhaba representative, sat us in an electric car and literally in a few minutes we were already passing through the security control. After passing all the transit formalities, Marhaba service have escorted us to the Emirates lounge. Taking into consideration the sizes of the airport and the distance between the terminals, Marhaba is a very helpful service, especially if you have a short transition time.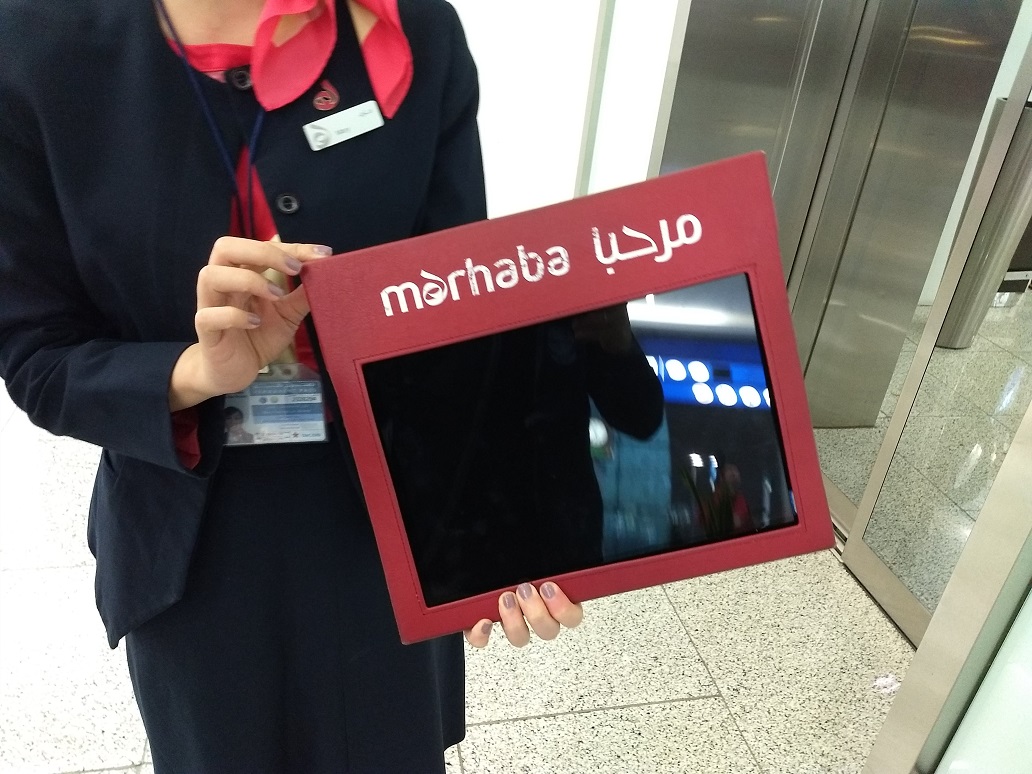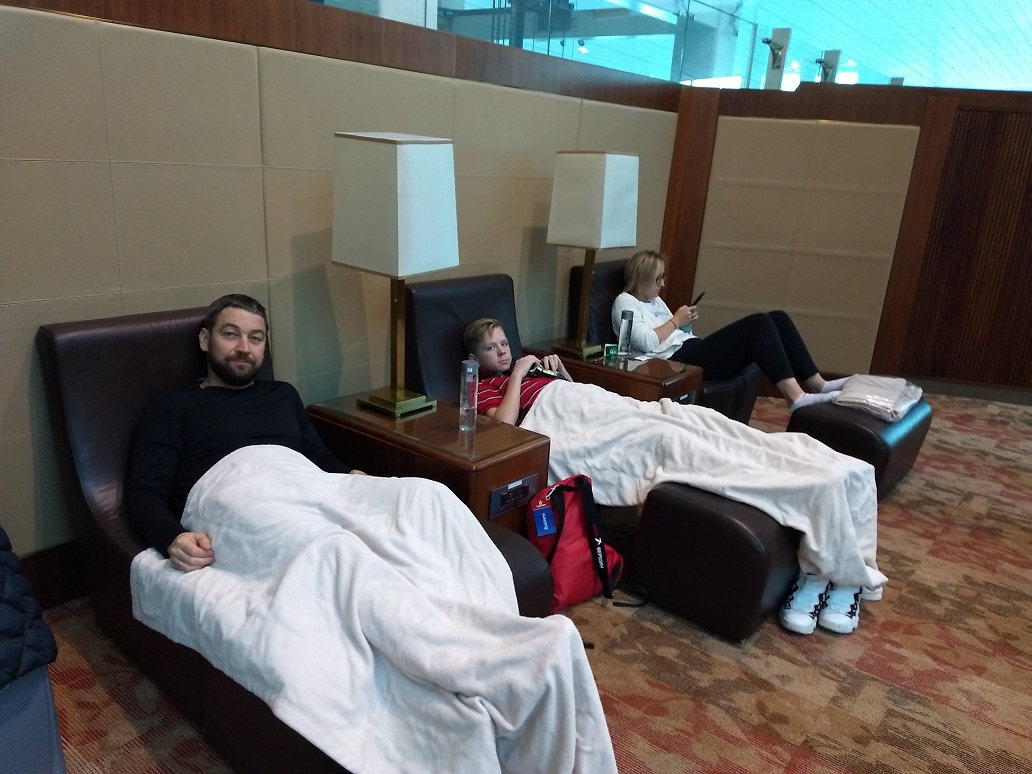 We had three hours before our next flight to New Zealand and with pleasure we spent this time in Emirates lounge that is located in the Terminal that was specially build for Emirates A380. It should be noted that it doesn't have so many things in common with other Business class lounges in Europe. The size of the territory and quality of service in the lounge are impressing. You can involuntary get lost and confused by where you are – in the airport or in a sanatorium. Everything can be found here: from various cafes, SPA zones to Quiet zone where we could take a horizontal position, read and take a nap.
It is noteworthy to say that boarding is being conducted right from the Emirates lounge and instead of going to the general boarding zone, we just immediately boarded a plane via boarding bridge.
And so began our flight on Dubai – Auckland route with the duration of 17 hours. It is not my first flight to New Zealand, but previously I had to travel with three stopovers, including a stopover in Australia where you require a transit visa. With the Emirates A380 it became possible to travel halfway around the globe without transfers.
Once the plane gained altitude, beautiful views of Arabian Peninsula started floating outside the window which I've been dreaming to cross on camels. While the plane was moving forward, according to the route map a view of Indian Ocean unleashed in front of us.
Usually during the transoceanic flights, especially when crossing the equatorial latitudes, planes get into the zone of turbulence for quite a long time. This time there was also some turbulence but the aircraft size and flight level FL400 (12 500 meters) helped to avoid the discomfort.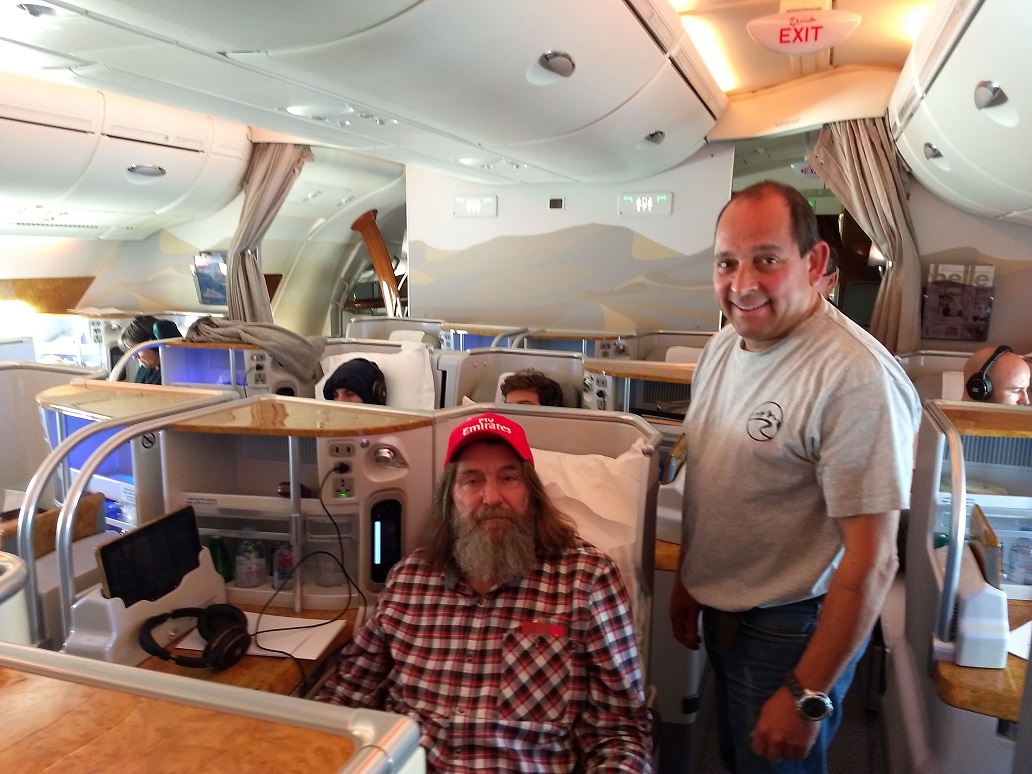 On the Dubai – Auckland route we were joined by our friend and partner Mike Wood. He works for Rannoch Adventure, company that has built our rowing boat. He was assigned to travel to New Zealand to check the boat and ensure that all instruments and systems are working properly.
Mike frequently travels with Emirates. His son, jockey George Wood, performs for the Godolphin team and often travels from Stansted airport to Dubai to participate in the races.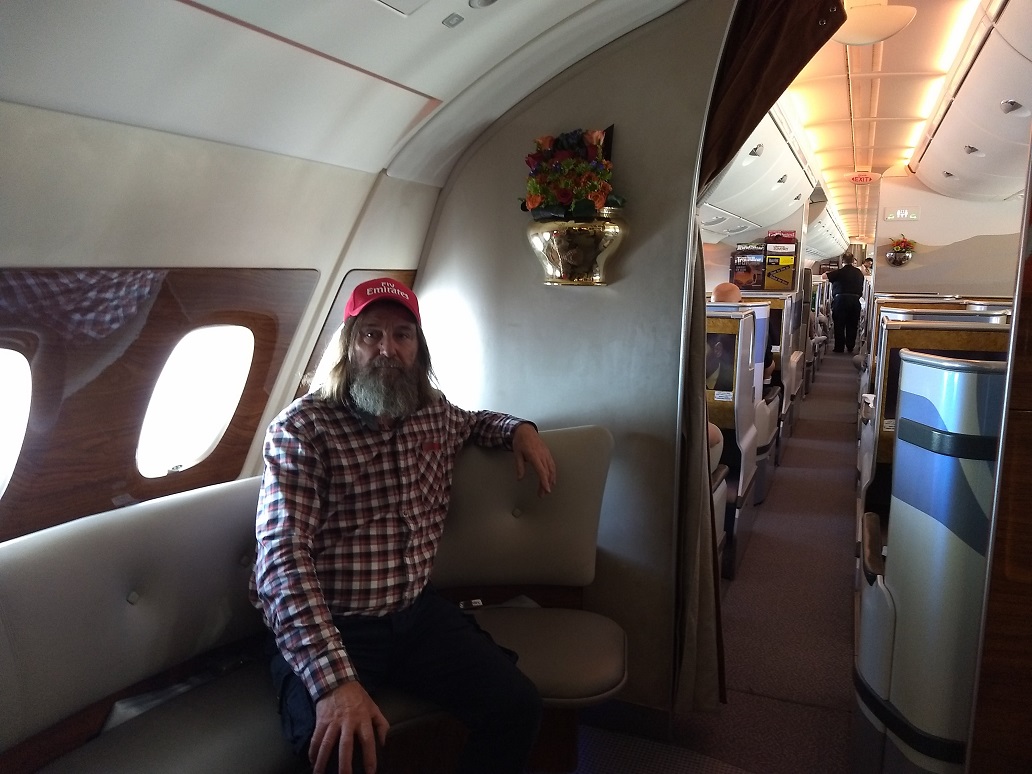 At the end of the Business class cabin there is the Onboard Lounge. This area became the most popular socializing spot in the aircraft while we were traveling on an altitude of 12 000 meters with a speed of 1000 km/hour. Just imagine a cozy lounge that can accommodate up to 26 passengers, that can meet and comfortably socialize without disturbing others.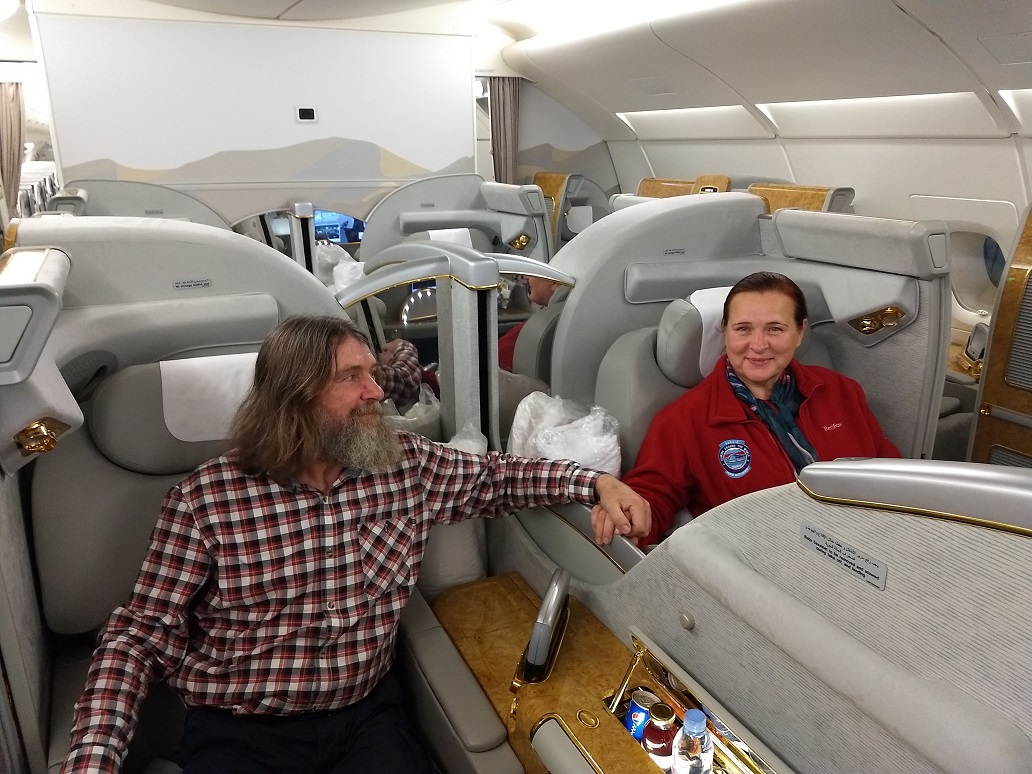 Even 17 hours were not enough to experience and try all of the Emirates onboard offers available for the Business class passengers as were already preparing for a landing in Auckland airport. Out of the window I saw Hauraki Gulf – the bay that was a starting point for my sailing trips to the Cape Horn.
Another trip to Cape Horn is ahead, this time it will be done on a rowing boat that is equipped with the minimum of things needed for comfort. I would like to thank Emirates for the opportunity to travel to New Zealand with maximum comfort. Now, well-rested we can start our preparation.
Fedor Konyukhov