First week in the ocean
29 December 2013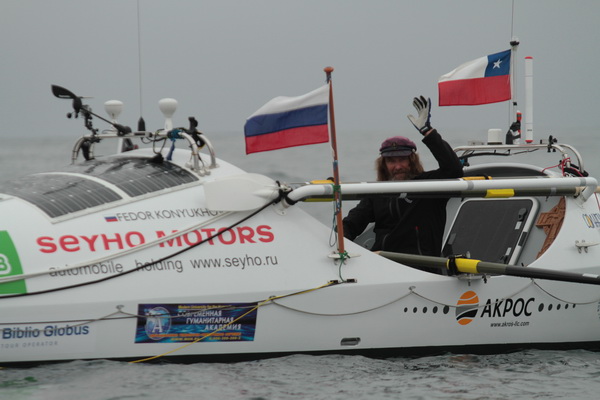 The first week flew by, but it feels like I left Concon only a couple of days ago. Today is day seven, and I have some good news. Tourgoyak and I have reached traverse of a Chilean port Coquimbo. We are 150 nautical miles west from the port. We also have crossed the 30th degree of South latitude. Now the weather should become warmer and sunnier with each day. The Ocean is getting calmer as well. The waves are long and sloping. With the wind of 20-25 knots Tourgoyak is advancing more rapidly than yesterday. We are experiencing the power of the Humboldt Current. By my measurements the current is at 2 knots and south-north. According to a map Tourgoyak and I have left the continental shelf and right now the ocean depth beneath us is 4500-5000 meters. All of the above mentioned happenings are perhaps insignificant to those on land, but to me everything carries an important meaning. Tourgoyak and I continue to move north and north-west.
Up ahead is our first way point: a group of relatively small, uninhabited oceanic islands known as the Islas Desventuradas. I plan to leave San Ambrosio and San Felix to port (left hand side). San Ambrosio is the closest, about 375 miles away, or one week of crossing with the current weather condition.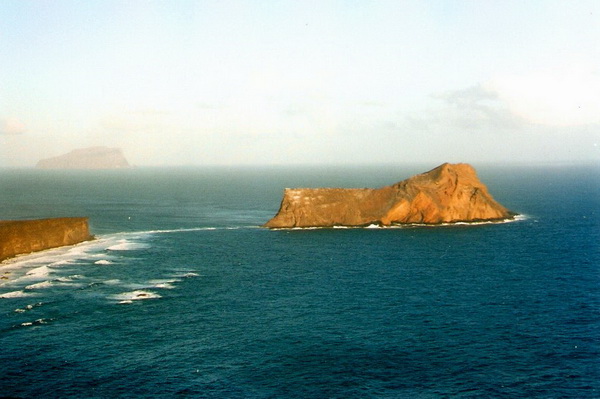 INFORME METEOROLOGICO VALIDO 290800/300800 HORA LOCAL.
SITUACION SINOPTICA:
MARGEN ANTICICLONICO.
PRONOSTICO:
PARCIAL, VIS 10 KMS, VTO S/SW 15/25 NDS RACHAS 35 NDS,
MAR MAREJADA A GRUESA (2.0/3.0 MTS).
——————————————–
WEATHER AND SEA BULLETIN VALID 290800/300800 LOCAL TIME.
SYNOPTIC SITUATION:
ANTICYCLONIC EDGE.
FORECAST:
SCATTERED, VIS 10 KM, WIND S/SW 15/25 KT GUST 35 KT,
SEA STATE MODERATE TO ROUGH (2.0/3.0 M).
MET013RJ
CENTRO METEOROL?GICO DE VALPARA?SO
http://meteoarmada.directemar.cl
en twitter: @MetArmada_Valp
Check http://yb.tl/konyukhov2 for "Tourgoyak" position.
Translated by Tatiana Koreski