"Last night was pretty good and uneventful except for a sudden switch off on the autopilot. It didn't get enough energy throughout the night and by morning it turned off. Since the start low hanging clouds and thick fog has prevented me from using the solar panel to power the batteries. I turned everything off except the GPS. Immediately put in an emergency rudder and started to control Tourgoyak with a help of a tiller.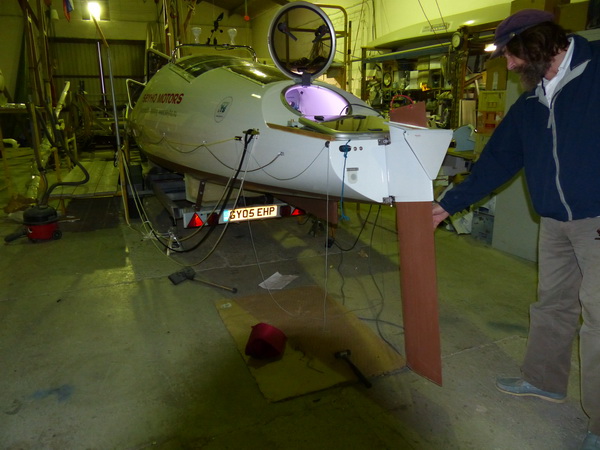 Foto: Emergency rudder. United Kingdom. October 2014
Hoping for the sun. Haven't had a single hot meal since the start. Drinking hot coffee and hot chocolate that someone has lovingly poured into thermoses in the morning of the start day. The AIS (automatic identification system) is working great catching the signals from ships within Tourgoyak's radius. The commercial ships are everywhere heading towards Chile. The wind was twisting and turning all evening long, causing the boat to twist and turn as well: from north to south-west. In case of the headwind of 15 knots we are stuck; I can proceed only if the wind is 1-15 knots. If it's more than 15 knots, I have to approach the wind sideways gaining some progress. This week will be a continual challenge to get away from the Chilean coast."
Given the fact that Tourgoyak is already a few dozens of miles off the coast, the coordinates are posted only once every three hours.
Check http://yb.tl/konyukhov for "Tourgoyak" position.
Translated by Tatiana Koreski