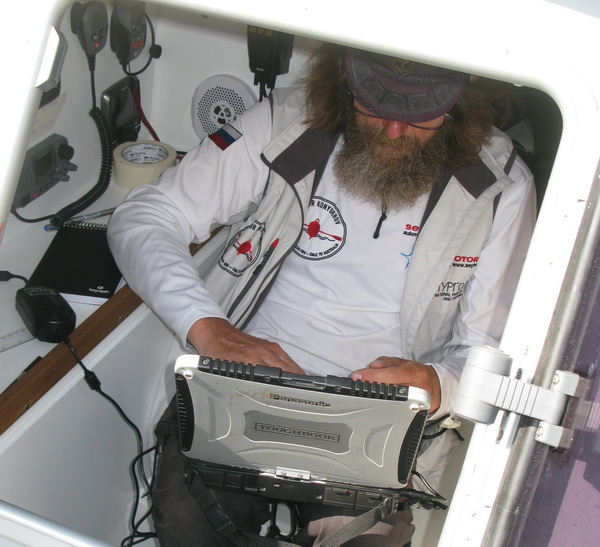 "On Friday I saw land for the second time since my start in Chile. I rowed past Motu One (Bellinghausen) atoll in a 12 miles distance. Before I saw the actual land, I noticed the clouds. They are different than the ones I see every day in the open ocean. Even without confirming with the chart plotter I knew that this was the land. The change in the horizon was noticeable since I observe the ocean and the sky for 16-18 hours a day. The atoll's clouds caught my eye immediately.
The weather was cooperating. The wind was from the north-east at 8-10 knots. I was able to round the atolls and observe its east and south coastal contours. I'm glad the regional storm has passed. The ocean has been quieting down considerably.
After Motu One I am rowing by Manuae, the westernmost atoll of the Society Islands. With God's help I'm hoping to round Manuae without any complications. That would mean I've successfully made it through French Polynesia. Up ahead are the Cook's Islands.
I had a few visitors from Motu One: a group of boobies discovered Tourgoyak. They are rather clumsy birds, and skittish too. When I'm rowing they are afraid to land on the boat, but right now I'm on the phone inside the cabin and can hear them trying to perch onto the antennas' arch. So, from time to time I must raise my voice to let them know I'm the captain of this vessel."
The map of the Tourgoyak's course: http://yb.tl/konyukhov2
The detailed map of the course: www.oceanrowing.com/Konyukhov/Pacific2013/dist_map.htm
Translated by Tatiana Koreski