Fedor on the satphone: "The wind has changed once again. Now it comes from the north-west creating a head wind and head seas. To top it off, the swells are pushing the boat from side to side. Yesterday evening, I witnessed a rare natural phenomenon: a powerful waterspout passed the boat in about two miles at the port side. A funnel shaped spout was swaying slowly until it disappeared in the south eastern direction. To see this tornado was very frightening.
Tension is in the air. Nature is thick with anticipation. The grueling heat is on during the day but thankfully the air cools off close to midnight. The weather demands the release of this tension. In the ocean, unfortunately for me, the release comes in the form of a storm.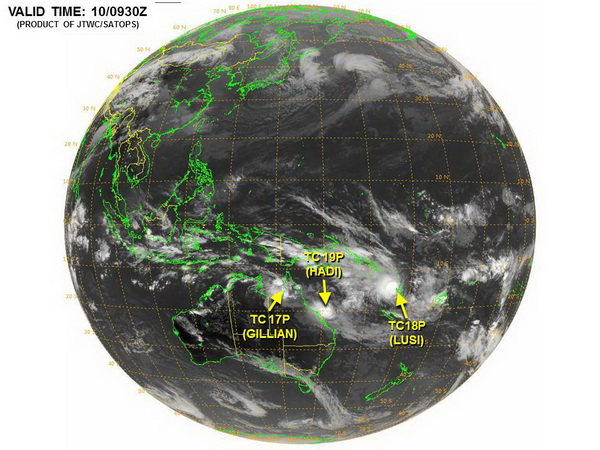 According to the weather report, the wind should turn back to north-east. The swells and the head seas are to remain from the west. There are some powerful storms raging ahead of me and I am experiencing their echo in the form of head seas. I'm just about done with rounding the Tuamotus archipelago. The next part of French Polynesia that I must pass through is the Society Islands, including Tahiti. Ideally, I need to leave Motu One (the Bellinghausen atoll) at the port side. It might be difficult to achieve due to the north wind. It's going to be a tough week. With God's help, I shall overcome."
A message from the Moscow headquarters:
Presently, there are three tropical storms (Gillian, Lusi and Hadi) are stirring in the western part of the Pacific Ocean. The Lusi and Hadi storms are expected to cross Fedor's route. More information is here.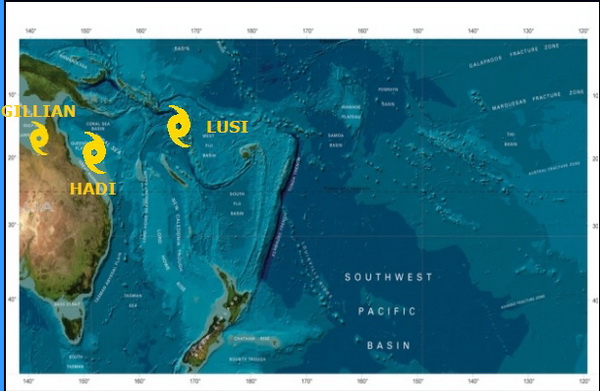 Before the start of the expedition, we knew the statistics: tropical storm season in the Pacific Ocean runs from November to April. We estimated that if Fedor started in the middle of December, he would reach the part of the ocean known as a birth place for tropical storms by mid-April, close to the end of their season. However, due to the ideal weather conditions for 60 days almost from the start, Fedor was able to get ahead of schedule. Had we known for sure that the trade winds and the Humboldt Current would be so favorable to Fedor's rowing, we would recommend postponing the start until mid-January. Arriving to the zone of storms and cyclones a month later would be a lot safer. The CycloneXtr?me company has compiled data for the last 40 seasons. Statistically, by April 1st, the possibility of a new storm or cyclone is fairly low. The next 20 days will be very stressful for Fedor. He has explored the possibility of using sea anchor in order to slow down his progress and wait out the stormy season.
The map of the Tourgoyak's course: http://yb.tl/konyukhov2
The detailed map of the course: www.oceanrowing.com/Konyukhov/Pacific2013/dist_map.htm
Translated by Tatiana Koreski