"The northerly wind of 17-20 knots is pushing the boat south, towards the islands. Despite it being an early hour, the sky is pitch dark with multiple cloud layers. Due to the luck of sun, the accumulators don't get enough energy, so I'm cutting my phone calls to the bare minimum.
I'm successfully improvising with the water ballast. There are three hatches on each side of the boat for storing food and equipment. I emptied all three of them on the starboard of the boat. Then I filled them with dozens of liters of ocean water. As a result, the starboard side is now sufficiently ballasted. The centerboard and the new ballast allow me to keep the course at 250 degrees, despite the north wind. The starboard gets a lot of beating from the waves, but Tourgyak is able to stay on course. Hopefully, the wind won't intensify; otherwise, I'll face much higher waves.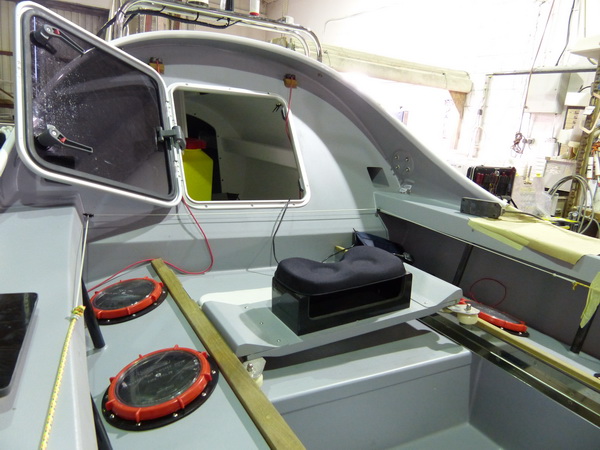 Today I received a message from Sergey Pechenegov, my comrade since the 1989 expedition to the North Pole. The expedition started on March 4th, 1989 and 65 days later we reached the North Pole. That Arctic expedition was incredibly difficult with no air supplies. On the 55th day of the expedition we lost our friend Alexandr Rybakov. He was 37 years old. He will remain in our hearts and prayers forever.
Through out my life I've had many opportunities to learn that the ocean, mountains and the Arctic cannot be attained by force. You must adjust yourself and your expectations to the element's rythms and nature.You are the one to constantly ask and compromise with the nature in order to reach your destination. When you are traveling solo it is even more apparent that in order to survive you must become one with your surroundings. I'm hoping and praying that with God's help the Pacific Ocean will grant me passage to the other side. I'm with you. Fedor."
For more information on the 1989 Soviet Expedition "Arctica" to the North Pole click here.
The map of the Tourgoyak's course: http://yb.tl/konyukhov2
The detailed map of the course: www.oceanrowing.com/Konyukhov/Pacific2013/dist_map.htm
Translated by Tatiana Koreski