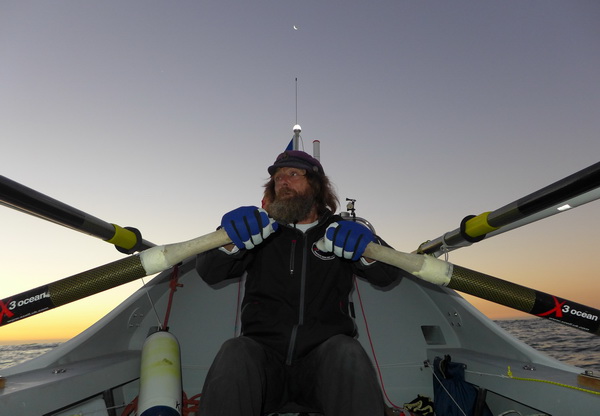 "Last night the wind rose to 20 knots with gusts of 25 knots. The seas rose up to 4 meters. The sky is crystal clear without a single cloud. The ocean continues to push Tourgoyak westward. The boat is facing the ocean well, keeps the course and doesn't turn sideways. I'm happy that we installed a centerboard in the bow section of the boat. It helps tremendously to keep the course. The high waves look particularly spooky at night in the full moon light. Last night I was able to see a green flash at sunset. The intensely green light lasted only a few seconds. It's said that seeing a green flash is good luck.
I had to do some maintenance on the rowing seat again. The seat rollers started to make creaking and crunching sounds. I took them off and lathered with some grease to minimize friction. I have four sets of rollers and have already used one of them. According to my plan, I can use another set by the time I reach my half-way point. At dawn I switched a chart chip on Raymarine A65 Chart plotter with the maps of "South America; Pacific Ocean" onto "Pacific Ocean; Oceania." The chart chip contains very detailed maps of the French Polynesia islands and atolls including every yacht club on each island. With transitioning to a new set of maps I mentally moved closer to the islands. Right now, I can only wonder and speculate how the region is going to welcome me.
Today I received a message from my friend Vladimir Ledenev reminding me that on February 15th, 1986 we stood on the Northern Pole of Relative Inaccessibility. I remember that expedition very well. It was my first expedition to the North Pole. I was a novice in Dmitriy Shparo's team. We started on January 29th, 1986 in the midst of the polar night. The temperature would reach negative 50° C. Our route was from the polar research station "NP-26" through the Pole of Inaccessibility to the polar station "NP-27", which we reached on March 7th, 1986. We skied on drifting ice for thirty eight days in absolute darkness. It was the most difficulty polar expedition of my life.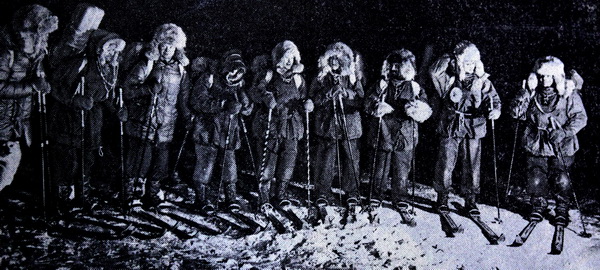 I have less than 900 miles until my next way point. With God's help I'll see land by the end of the month. I'm with you. Fedor. "
The map of the Tourgoyak's course: http://yb.tl/konyukhov2
The detailed map of the course: www.oceanrowing.com/Konyukhov/Pacific2013/dist_map.htm
Translated by Tatiana Koreski