The first day of the New year
01 January 2014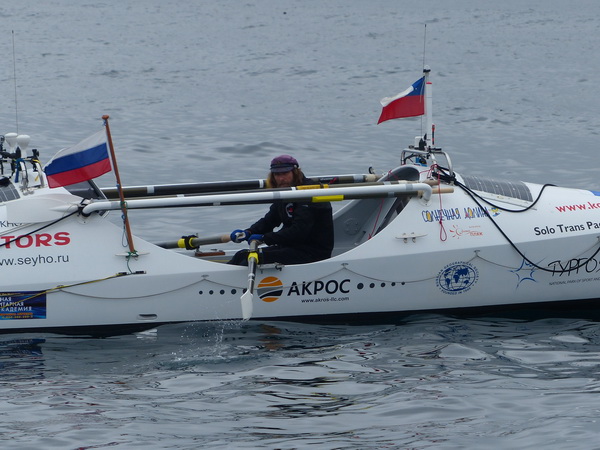 Fedor via satellite phone: "The first day of the New Year brought some good news. The wind has finally changed and I am able to keep my course west-north-west. I can breathe a bit easier now! The current and the winds are just what I need. To celebrate the new beginning and the new weather conditions I wanted to open a bottle of wine but the AIS system located a tanker straight ahead of Tourgoyak. I had to postpone the celebration and work on maneuvering Tourgoyak to pass the vessel. In the end, we parted within three miles. On New Year's Eve I crossed the latitude of the Australian city Brisbane, which is where I'm supposed to arrive. That, however, is only a theory right now. I can plan, predict and hope for the best, but in reality can't even imagine how this transpacific crossing will unfold. Other than the new wind direction I don't have any other big news. The routine hasn't changed much: a couple of hours of working on oars, followed hour of resting and working on board. Before falling asleep I set an alarm clock. Altogether, I sleep about 5-6 hours, about the same I do back at home. Tonight there is no moon, and it is complete darkness here, but for some reason I prefer a night shifts. In general, as with my other expeditions, emotionally it's easy for me to be alone, even though physically it's a lot harder to do such crossings solo. Right now my navigational approach is pretty simple: study the map, keep up the course and the speed. There are no islands nearby so my main goal is to stay away from the ocean vessels passing by. They approach Tourgoyak really fast: it takes about half an hour to close on me since their first appearance on the horizon. I read somewhere that there was an ocean rower who could sleep through the entire night and upon waking up study how far his boat would drift off course. That takes some nerve, let me tell you. I can't even imagine sleeping through the night oblivious to where my boat is drifting."
Judging from the weather map of the entire Pacific Ocean from the South America to Australia, we can conclude that Tourgoyak is entering the Trade Winds of the South Pacific. The winds are from south-east and stable all the way to the French Polynesia, including Tahiti. The region on the map where Tourgoyak is present right now is colored in green which means the wind is 20-25 knots. Such weather should last until January 4th, 2014. For a more detailed map click here.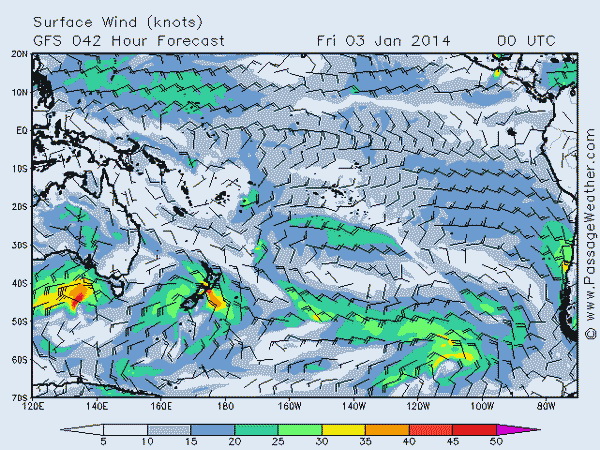 We continue to receive the weather report update from the Armada de Chile:
INFORME METEOROLOGICO VALIDO 010800/020800 HORA LOCAL.
SITUACION SINOPTICA:
MARGEN ANTICICLONICO.
PRONOSTICO:
NUBLADO A PARCIAL, VIS 20 KMS, VTO S/SE 18/25 NDS,
MAR MAREJADA (1.8/2.5 MTS).
—————————————————-
WEATHER AND SEA BULLETIN VALID 010800/020800 LOCAL TIME.
SYNOPTIC SITUATION:
ANTICYCLONIC EDGE.
FORECAST:
BROKEN TO SCATTERED, VIS 20 KM, WIND S/SE 18/25 KT,
SEA STATE MODERATE (1.8/2.5 M).
We must report that today we have not received the coordinates from Yellow Brick buoy. No coordinates from 00:00, 04:00 and 12:00 (Universal Time Coordinate). The specialists who operate the Yellow Brick system have no definitive answers at what caused the missing coordinates. However, we did receive a phone call from Fedor at 15:00 (Moscow time) and he informed us that the buoy is still on board of Tourgoyak.
Map of Tourgoyak's course: http://yb.tl/konyukhov2
More detailed map provided by the Ocean Rowing Society International: www.oceanrowing.com/Konyukhov/Pacific2013/dist_map.htm
Translated by Tatiana Koreski