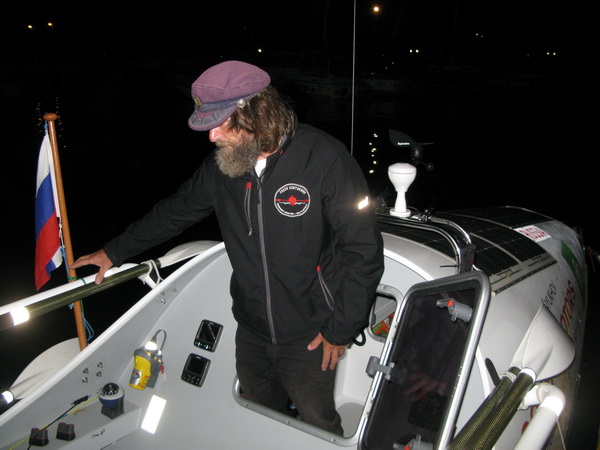 Photo: the night before the start. Chile, Concon, December 2013.
"There is plenty of wind 20-25 knots, but thankfully it's a tail wind and I'm staying on course. About 200 miles west of me a serious storm is raging. As a result, Tourgoyak and I are experiencing high seas. The boat is being lifted up and down as if we were on swings. The ocean is grueling, but all is well on board. One annoying thing is a saturating and ever present dampness that got into everything. I don't have anything left fully dry. I'm unable to open the hatches for ventilation because water would rush into the aft cabin and control panel section. There was a moment when I was unprepared to face a rogue wave. I was just about to step out on deck from the cabin when out of nowhere powerful rogue wave hit the boat so hard that it rolled on its side. Here I was: one leg in the cabin and the other on deck. Thankfully, it took only a few seconds for Tourgoyak to right itself up, although some of the water did get into the navigational station of the cabin.
Today I saw an airplane, a type of business jet. They must've seen me because it turned around and flew over me one more time. It looked like they were heading for Tahiti.
I heard the news that my friend Simon Chalk together with his team successfully rowed across the Atlantic Ocean. The team of eight had spent 32 days and 22 hours rowing from Grand Canary to Barbados. It's an incredible result for an ocean row boat. I'd like to congratulate Simon and his entire team. Well done, guys!" (to read more about this transatlantic crossing click here. )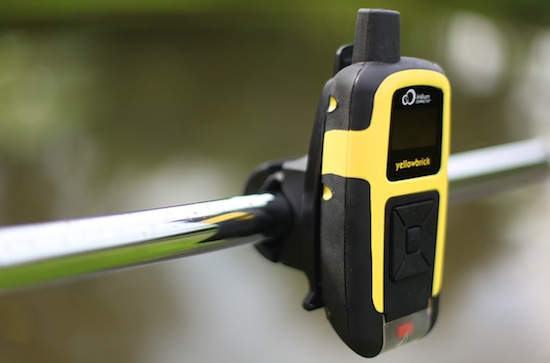 I was told that there was no signal from my Yellow Brick buoy since last night. I went to check what the issue was. A cap for the USB plug-in was loose and letting water in. Most likely this water intake caused the circuit shortage. That's no good. I turned a second buoy (3399) on. I only have two of these buoys on board. It's expected that the ocean conditions will take a toll on the equipment. Thus far I have been fortunate with small equipment losses in which I carried a spare. May the Lord and your prayers continue to protect and sustain me. I'm with you, Fedor."
The map of the Tourgoyak's course: http://yb.tl/konyukhov2
The detailed map of the course: www.oceanrowing.com/Konyukhov/Pacific2013/dist_map.htm
Translated by Tatiana Koreski