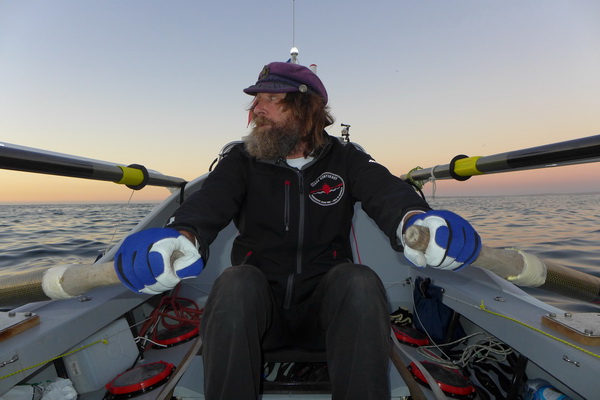 Fedor via the Iridium satellite phone: "I left Norfolk island (Australia) at the port side. There are no more islands to pass or to stay away from. The only land ahead is the continent of Australia, but it's still 780 nautical miles away. The wind is south-east, 15+ knots, and it's expected to raise up to 25 knots. The week is going to be windy with the gusts up to 30 knots. The formation of a new front will bring steady south-east wind for the next thousand miles. If nothing interrupts this front my boat will advance rapidly.
Since yesterday, the weather has been great with clear sky and no rain. The boat's accumulators are fully charged. The water pump worked great and I've got a generous supply of drinking water. I tidied up the aft cabin and even dried some of the clothes, sort of. It's a full moon, and at last, the ocean is calm, kindly letting me catch my breath.
Yesterday, I saw two commercial vessels. The first freighter passed me within just three miles at the bow. My radar transponder (AIS) didn't pick up that there was something approaching and I was startled to see a ship right in front of my boat. I had no idea it was there. I was working on oars and needed to stop for a moment to check the centerboard. That's when I saw the red hull of the freighter. The day was clear and I could clearly see the vessel's bridge deck and wheel house. I tuned in to channel 16, but decided not to go on air. Interestingly, no one called me from the ship either. The second time I saw a cargo ship was at dusk. This one was at Tourgoyak's stern, slowly going over the horizon, blinking with its lights. I'm concerned that on both occasions the AIS system didn't signal me about the passing vessels. Is it really out of order? It's one of the most crucial electronics when one is approaching land on a small row boat. If AIS isn't working properly I will be in the dark.
This morning a flying albatross was a surprising sight. They usually don't fly so high up north in the Pacific. In my experience, this seabird finds its home closer to the "roaring forties".
A clear sky revealed a plane flying high from the north-east towards the south-west. Seeing the large cargo ships and this airplane made me realize that I'm slowly returning back to civilization.
There is a ton of fish in the ocean. I hardly saw any fish during my first three months. But here, they are abundant. Dorados are circling the boat, but I'm done fishing. There is no time to lose. To catch a fish, to reel it in, and to clean it would take at least three hours. I'm too exhausted for such an undertaking as fighting a big dorado; I want to go home now. All I can think of is my arrival in Australia. What route to take, what kind of weather I will encounter, will I be able to enter a city or will end up somewhere on a beach. The unknown scares me. My life on the ocean is tough, but I know it; after 140 days I've become one with the ocean. To leave the ocean and enter the coastal waters is something I'm most concerned about at this point. I'm with you. Fedor"
The weather forecast for the next few day is here.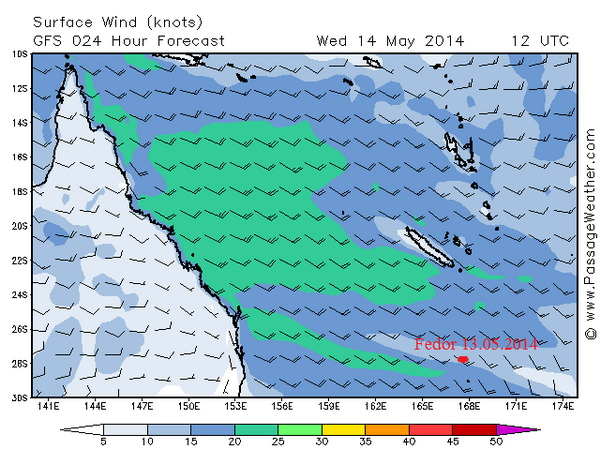 The map of the Tourgoyak's course: http://yb.tl/konyukhov2
The detailed map of the course: www.oceanrowing.com/Konyukhov/Pacific2013/dist_map.htm
Translated by Tatiana Koreski