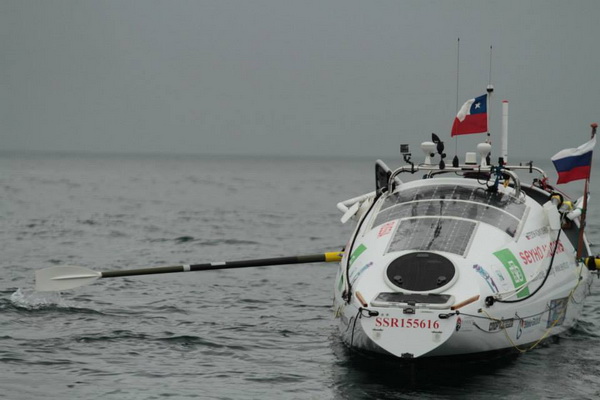 Fedor via the Iridium satphone: "It took me 44 hours to cross the 171 degree; almost two days to cover one degree. The weather has been difficult with the wind from the south, periodically coming from the west. The boat has been dragged towards New Caledonia. It's early Sunday morning, just before the sunrise. I can feel the wind's shifting, and hopefully it will become easterly. My wind barometer stopped working long time ago. With the wind from the east it will be possible to keep the course at 280-285 degrees, as opposed to 310. According to the weather forecast, it's going to be a windy week with the south-east-south wind.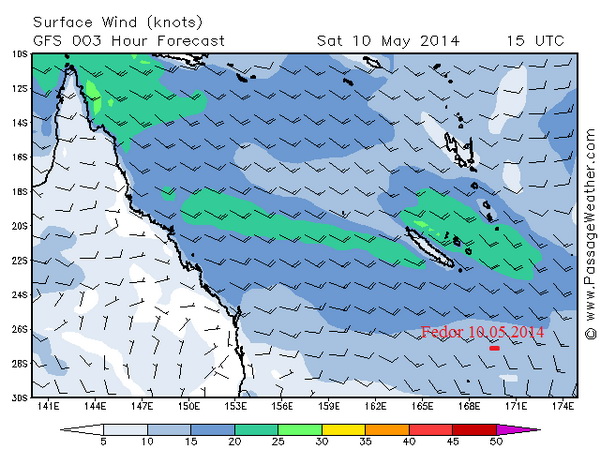 With such wind, Tourgoyak and I will end up much higher than the targeted finish line. Right now, I'm keeping the course to Mooloolaba Marina in Queensland, Australia. The marina's coordinates are 26′ 41 south latitude and 153′ 07 eastern longitude. At this point, I'm at the exact same latitude with the marina, but with the south-east-south wind I'll be nudged up north daily. Even with the centerboard out, the boat is still experiencing a strong sideway drift. A large wave of 2-3 meters at the port side is a big nuisance. The goal for today is to cross the 170th degree, and for the next few days I'd like to see me pass the traverse of New Caledonia archipelago. I'm with you. Fedor."
The weather forecast for the next two days is here.
The map of the Tourgoyak's course: http://yb.tl/konyukhov2
The detailed map of the course: www.oceanrowing.com/Konyukhov/Pacific2013/dist_map.htm
Translated by Tatiana Koreski