999 miles until Brisbane.
08 May 2014
On the night of May 8th, the Tourgoyak boat had crossed the 172 degree of the Eastern Longitude. This information is confirmed by the International Ocean Rowing Society (London). Fedor Konyukhov is now in less than 999 miles from Brisbane.
The remaining distance of the one thousand miles by no means will be easy. The late autumn in the Southern Hemisphere brings storms and low pressure systems. In addition, the boat is only 13 degrees away from the "roaring forties". According to the weather map of the South Pacific, the storms have already covered New Zealand and keep moving up north. The wind in the low pressure systems spins clock-wise, which means that in the top area of the system the winds are westerly. Therefore, Fedor and Tourgoyak are facing the head wind and are prevented from advancing westward.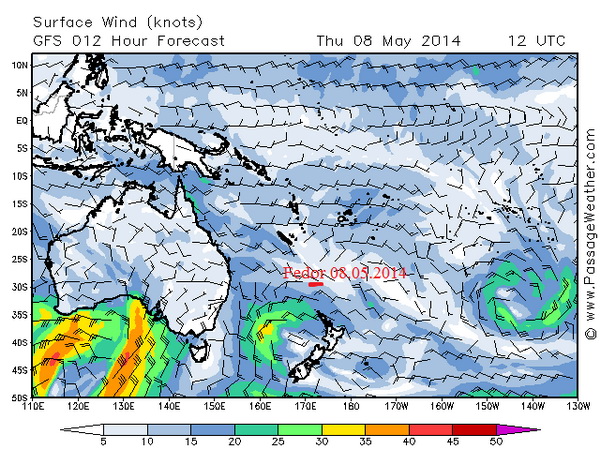 Fedor is expected to call later today to report his current situation. As of today, Tourgoyak has covered 8,327 nautical miles, or 15 kilometers.
The transpacific expedition is supported by the Russian Geographical Society. The RGS flag is on board of Tourgoyak crossing the Pacific Ocean. To learn more about RGS and Fedor Konyukhov's collaboration click here.
The investors of the transpacific project:
Oleg Sirotin (hotel –resort Golden Beach and ski-resort Solnechnay Dolina, Miass, Russia).
Sergey Eremenko (car dealership Seyho-Motors, Chelyabinsk, Russia)
The official partner of the expedition: Akros LLC.
The mass-media coverage is provided by the following:
Modern Academy for the Humanities;
Tour operator Biblio Globus;
NTV broadcaster;
Russian news agency ITAR-TASS;
Educational TV Chanel of MUH;
Travel Magazine "Around the Globe".
Translated by Tatiana Koreski